Deck Makeover
A few months ago, Rob and I bought our very first house together. The inspection and closing process took a lot of the glamour out of being new home owners (there were rodents involved) and the house itself needed a lot of cosmetic work before we were really excited to show everyone. We called it our little '80s dream home. The house just didn't really feel like us yet.
After a month of renovations (we supervised and much more capable people did the hard work - thank goodness) we got to move in. Four months later, we finally feel like it's all come together. I love (almost) every moment of home ownership and we've checked off one project after another! Some improvements, like getting our new water softener installed, are not very flashy. While my hair is softer than ever, the giant softener in the corner of our garage and the big sections of drywall still missing from the installation don't make fantastic blog material. While Rob was on a business trip to Guadalajara last week, I surprised him with a project I'm SUPER excited about sharing - OUR DECK REMODEL (or whatever you call a remodel when the "before" was just an empty deck)!! He was only gone four days so I really worked my butt off while we was gone. Even after all that hard work I still ended up making him wait six more hours to see it because I REALLY underestimated how long painting would take. Here's a look at what's new: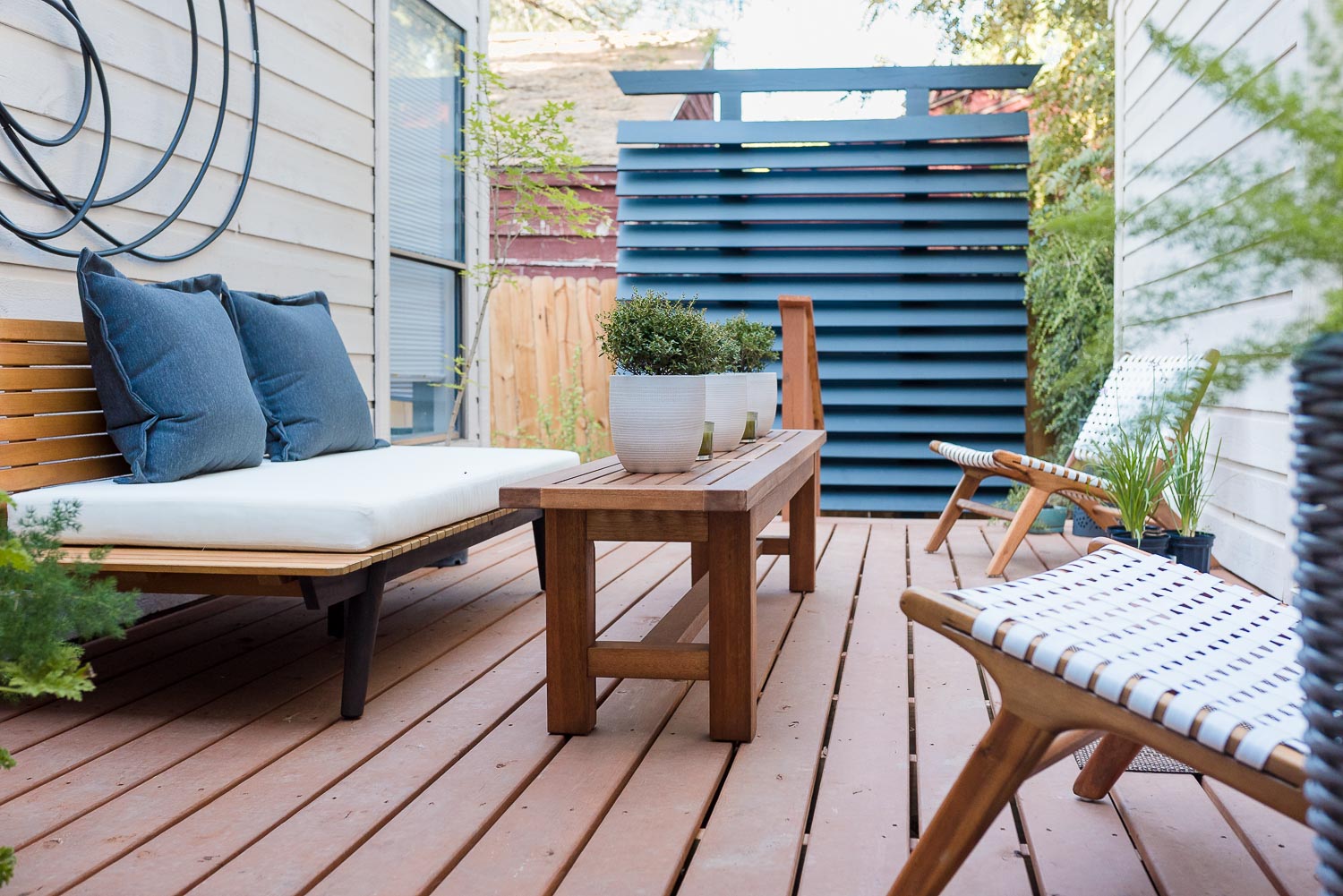 We've had this bench awhile and I've been waiting for a sale on these chairs from World Market all Summer - stalker style. The coffee table is really a dining bench so it's super sturdy and we could use it as extra seating if we needed to!
A Pinterest inspired project - I think I nailed it! Well, technically I used screws, 50 feet of flexible PVC, and black spray paint but you get the idea.
The photo on the left is mine and the right is my original Pinterest inspiration.
Rob introduced me to Shades of Green, a nursery here, when we first started dating. I'm absolutely sure he regrets it. Our deck has citronella, rosemary, sage, dwarf micro holly, weeping yaupon holly, a ming fern (not a "true" fern - for the record), foxtail asparagus fern (also not a real fern), shantung maple, garlic (it has pretty purple flowers), and an anacacho orchid tree. There's a lot to water.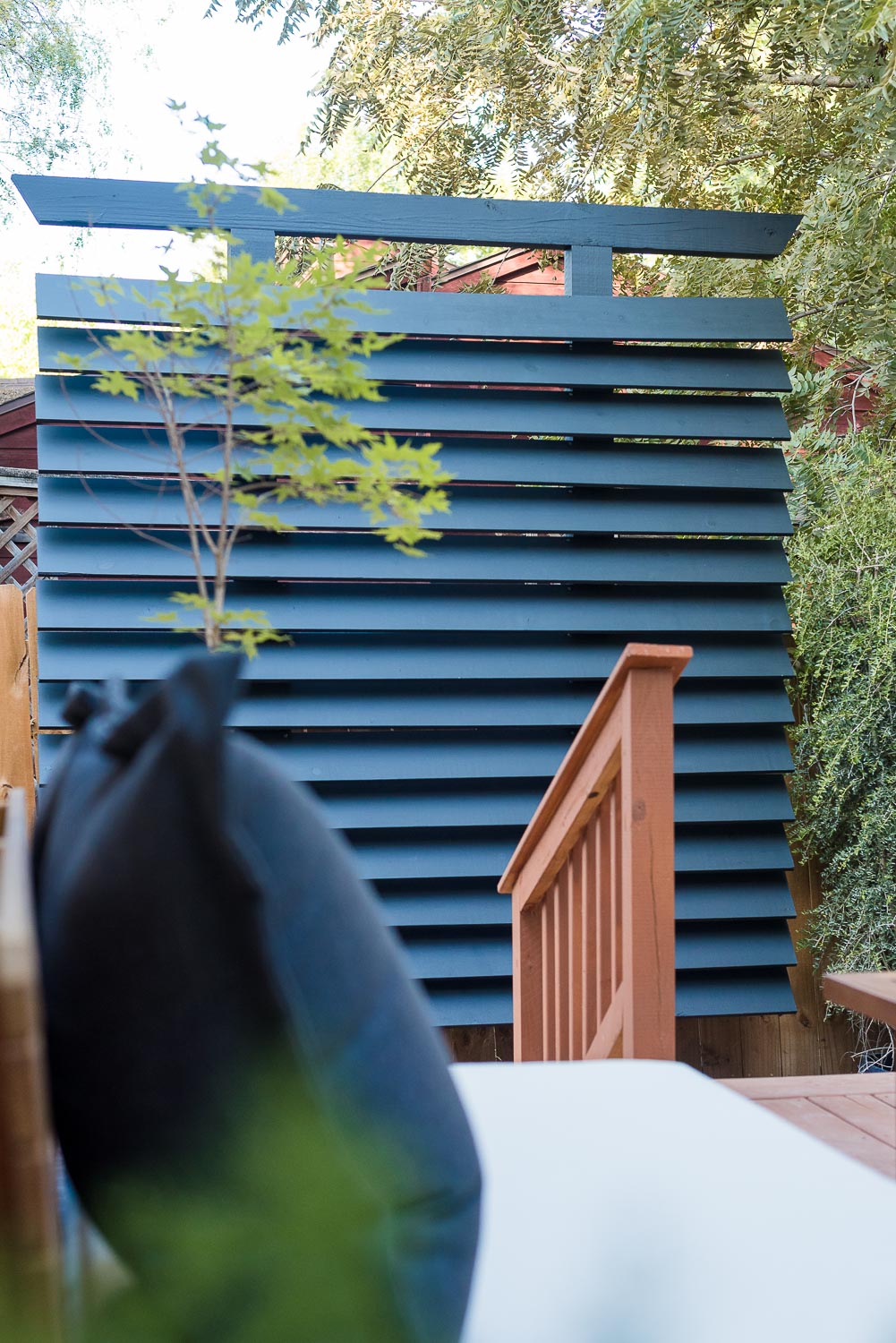 This was a HUGE project all on it's own. Three days, five trips to Home Depot, and a lot of help from my amazing friend and co-worker, Heather, and it was FINALLY done. I didn't realize how much work painting all the parts would be. Fifteen slats on both sides with 2 coats of paint is 60 SIDES! I could hardly move for days I worked so hard but I can't see into my neighbor's house from the hall bathroom anymore so it's a WIN!!
There are photos of this in progress at the end of the post too!
Rob absolutely loved the new deck, especially the privacy wall. He couldn't believe I built it in such a short amount of time. I'm pretty surprised myself ;) We're calling the outside done for now and enjoying it. I just hope Fall weather starts a little early this year!
here are some "in progress" photos (click them to enlarge):
Just in case you're curious (Kiah, I'm talking to you) here's a list of where I found all the stuff: